Bye Bye Beam: How To Demo an Annoying Architectural Element
Yo yo!  So once upon a time there was this girl.  And her name was Mandilicious.  She was buying her first home and looked and looked for just the right one.  Finally she found it.  Nasty carpet, dead cockroaches and all.  But aside from all of that there was one thing she thought was super intriguing, these beams in the doorways.  (Yes, this is the REAL MLS listing on my house.)
She,  I mean, I had never seen something like that so I thought it was out of this world cool.  I have thought and thought about things that I could do to that little space, but everything I came up with just made the doorway seem so low and tiny on the high walls.
This little beam was the reason I decided to stripe my hallway, because it emphasized it.
Fast forward to now.
I hate the beam.
The beam had turned into a jungle gym, because of the beam there are wall footprints.
The beam was dead to me.
It had to go.  So it did.  And here is how we did it.
Start by getting the right safety gear for the job.  You need an eye protectant and a mask for starters.  Doing simple safe things like wearing a mask will prevent things that are not fun down the road.  Have you ever had spray paint boogers? Case closed.
3MDIY.comis a great tool to know exactly what is available and what safety gear you need for the job.
Then you call in the brains of the operation to help you.  If you are as lucky as me it would be your husband.
Make sure you check out the video at the end of the post to see the whole process time lapsed into about 5 seconds.  Because he may be the brains of the operation, but I am the muscle.
Once your beam is safely demo'ed the fun part kicks in.  Time to make it pretty.
Casing out a doorway is SIMPLE.  I PROMISE!
We use preprimed 1×6's (the wood kind, not the MDF kind).
Start by lining the inside of your doorway with the wood.  Make sure that it is the same thickness as your doorway (or it could get  a little awkward for ya.)
Once the inside of your doorways is framed, its time to take the operation to the outside.  I LOVE the custom look that you can get just by pulling your frame back an inch from the edge of your inner casing.  We used preprimed 1×4's for the sides and 1×6 for the top apron.  Also remember this post where I told you my ceiling wasn't painted all the way?  Good.  So don't judge.
Once everything is cased in its time to caulk, putty and paint!
Normally I use the kind of putty that starts pink and then dries white.  Which is fine.  But on this project I used Patch Plus Primer and I LOVED it.  The reason?  With the primer already in it you don't get the variation in sheen the way you do with regular spackle.  It was really easy to use (a little bit dryer than normal putty) and I was super impressed with how there was no pitting/sinking when it dried.
I used Sherwin Williams Pro Classic Enamel in Tricorn Black (satin) to finish it off.
Bet you didn't think the ENTIRE hallway was getting a makeover did ya?  Tutorials to follow!!
No one can believe that it is the same height doorway because it is SO much taller.  Finally I feel like you can sense the height of the ceiling and the best part?! NO MORE FOOTY WALLS!!
Oh wait.  HERE is the best part.  And awesome video where you get to see me being strong, getting interrupted, and dancing.  Pretty much a match made in DIY video heaven.  And while you are over there subscribe to my YouTube channel
I hope this post inspires you to realize that your house and the design of it is only limited by yourself.  If you have something like this that you hate, don't be afraid to tackle it yourself.  Just make sure you are doing it the safe way!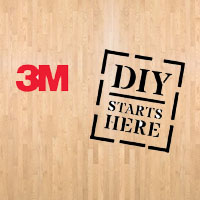 Love Your Guts,  Mandi
I teamed up with 3M DIY Starts Here for this post.  All ideas, opinions, and video of me yelling at my children are 10000% mandilicious.