Earlier this week I announced The Hoard Sale wouldn't be as "Hoardy" as the last one…
And I totally lied to you.  I am sorry.
I have come to terms with my crap that is being used and crap that is not being used.  And I realized that in fact I love the hunting (the thrill of the Thrift Store rush) more than the gathering (pulling stuff from my garage).
So my friends.
Everything is going.  Everything that is, that doesn't have a home.
There are going to be lots of chairs like these:
And there are A LOT of these:
And this bed frame:
And I have a few of these mirrors and the desk and the chandy:
And A TON MORE.  Like a couple of armoires, a crapload of chairs, lamps, etc.  Then I was worried that I wouldn't have enough stuff because I got so many emails from people that are coming, so I called in the troops.
Meet the troops: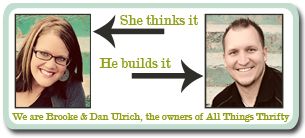 Oh yes.  That is Brooke from All Things Thrifty.
Also did you know that Brooke was the one that took my blog-ginity?  Its true.  First blog I ever read.
This thing is going to be awesome.
It is going to be at my house in St. George UT.  If you need my address you can email me (vintagerevivals@hotmail.com)  and I will send it over.  The sale starts at 8:00 SHARP.  If it were me I would be there early but NO ONE will be allowed into the Fortress of Hoard (say that with a booming voice) until 8.
AND!
For everyone that is coming from out of town (or just wants to have a fun lunch!) we will be meeting up at Durangos at 1:00 for lunch!!  (And anyone that couldn't come to the Hoard Sale is more than welcome to come!)
Make sure you follow VR on Facebook to stay update on the craziness if you cant be here!
See you guys tomorrow!!
Love  your  guts,  Mandi