How To Draw Inspiration From Something Without Copying It.
In this world of blogs and Pinterest there is inspiration EVERYWHERE.
We are inspiration addicts.  We just can't get enough of it.
Thousands of pins later we don't know which way is up or what we actually like because WE like it and it speaks to us or what we like because we are bombarded with it because everyone else is obsessed.   We lose our own voice and opinions because of beautiful images that draw us in and make us feel like if we could have THAT rug, or THAT bedroom, or an all white kitchen that our lives would somehow be more fulfilling.
So what do you do?  How do you right yourself and find your own voice? (Besides being a part of the FFA) How do you find inspiration in things without feeling the need to duplicate it exactly?
My friends never fear,  MANDILICIOUS is here!!!  And I have the perfect example to inspire your guts out.  This is how I draw inspiration from other peoples projects.
I loved this post from Jenny @ Little Green Notebook.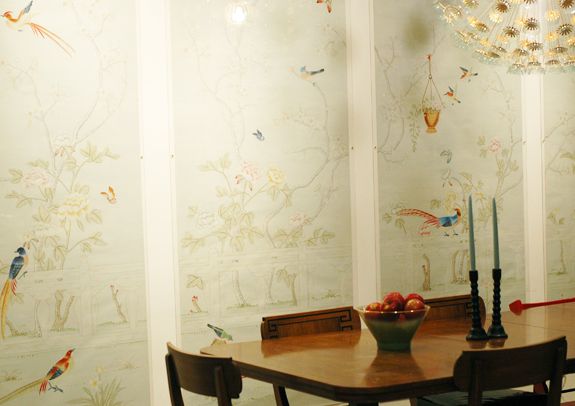 She had these panels of beautiful hand painted paper that she mounted to the wall in her dining room.  I LOVED how she used something that I never would have thought of.  This traditional Chinese wallpaper rocks my world.  Its so chic and unique and lovely.
But just because I love it doesnt  mean that I have to do exactly what she did.  I filed it away in my brain of something I was moved by.  That's all.  Then I went on with my life.
That is what (IMHO) a great blogger/inspiration source does.  They inspire you to look at the things around you differently.  To judge things less and to push you beyond what you are.  They can change your perspective with one project.  Jenny is a WONDERFUL example of this.
Fast forward a few months.   I saw 2 of these lamps at the DI (Utah's version of Goodwill)  They were brass(!) which I loved but not the good tarnished brass.  The gaudy high polished kind. (Check back tomorrow to see how I took the A*$ out of brass and made them lovely and slightly tarnished.)  But etched into the sides were oriental scenes.  AMAZING!!
Do you remember my rule?!  If you see 2 matching lamps BUY.THEM.RIGHT.NOW  because you can always spruce them up and its always a room killer if you need 2 lamps and only thrifted one.  And if you want to hear my voice saying it every time you see a set of lamps you can watch this clip from Nate
Had I not seen Miss Jenny's  wallpaper I might not have snatched them up.  But because she made me feel something when I saw her project, the dots in my brain connected and I found a way to incorporate something classically traditional in a way that was my own.
And I got the lamps for $8.00 each so that doesn't hurt either…
Pretty fun right?!
You can love something  from someone else and still make it your own,  just don't be afraid of your own voice.
What is your favorite source of inspiration?
Love  Your  Guts,  Mandi